I ran another marathon yesterday. Once again, I ran it with Nina.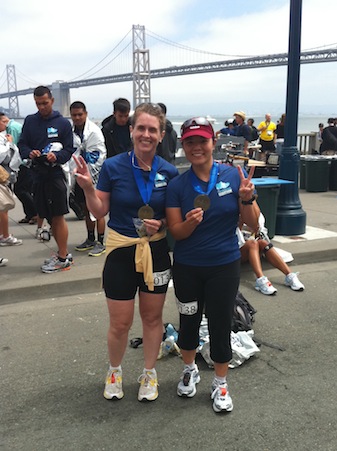 We finished. I have photographic proof.
That's about the most cogent thing I have to say about the San Francisco Marathon right now. Perhaps the Wall Street Journal can speak more effectively?
The Race Even Marathoners Fear

Every year, marathons in New York and Chicago draw some 40,000 participants each.

But not the San Francisco Marathon. The race, which takes place July 25, attracted fewer than 7,000 runners last year, and open slots for the upcoming event remain plentiful. The reason: San Francisco's famous hills, which draw tourists from around the world, are a bear for runners to traverse. "To put it tactfully, this course is not for the casual runner," says Jenny Schmitt, spokeswoman for the San Francisco Marathon.

The San Francisco Marathon's low profile frustrates its fans. This year, the race's organizers have hired new publicists to try to raise its profile. Many runners loath to do the full race have been drawn to a half-marathon option added about a decade ago, and more recently a second half-marathon alternative route has been put in place.

Going the whole distance in San Francisco has put off some first-time marathoners who don't want to risk falling short of the finish line. And many seasoned runners don't want to waste their energies on a race that offers no hope of setting a personal record.
Personal record? PERSONAL RECORD? I took up belief in a spiritual being so I could pray to someone to put me out of my misery. We finished with a time of 5:40, or 40 minutes longer than we did Seattle. I suspected I hadn't trained enough for this, and wow, did this marathon prove me right.
At mile 21 or 22 (when the women running next to us were cracking me up by thanking every cop and every Hell's Angel—noIamtotallynotkidding—who were in charge of stopping traffic to let us run by with "Thank you! You rock! I love you!"), we came to a short but definite downhill and I said to Nina, "You know you're in a bad spot when running downhill doesn't feel good."
Don't get me wrong. It's a gorgeous marathon. You go through many, many, many beautiful and scenic areas of San Francisco, including an out-and-back across the Golden Gate Bridge. You go through Fisherman's Wharf. You make a large loop around AT&T Park. It's really some excellent sightseeing.
We actually did the first half (around the Embarcadero, across the bridge, then up through Sea Cliff and over to Golden Gate Park) in two and a half hours, which was exactly our pace for the Seattle marathon. We had really high hopes for doing San Francisco with much the same time.
Then we ran west through Golden Gate Park, followed by east through Golden Gate Park, and I kid you not: it was uphill both ways. By the time we made it out of the Park and into the Haight-Ashbury, I was done for.
Most popular line Nina and I used during the race: "This is the last hill! I'm absolutely sure of it!"
I'm completely sore today (even hobbling a little bit), in a way I wasn't after our 20 mile run a few weeks ago or even the Seattle Marathon, so I'm guessing it was the hills. I have to do a lot more hill training. Let's put it this way: I've been telling myself I need to do more hill training, and now I just had the school bully slap me across the face a few times with a loud "HA HA." I'm not feeling as psyched about running as I have in the past: I'm actually suffering post-race blues.
Nina says we have to run another marathon or we'll never run a long race again. I don't think today is the day to decide about that.